Top 5 Powerchairs
---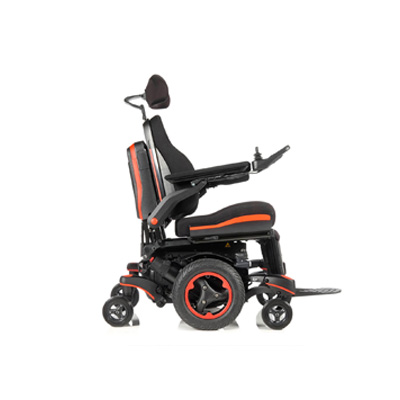 ---
If you're looking to gain independence and confidence when travelling outside, a Powerchair can provide you with this. With the performance and manoeuvrability to get you where you need to go, our powerchairs have a range of different features that cater to your needs. But with so many options out there, where do you start? In this blog post, we take a look at some of the best powerchairs in the market, giving you an insight into what's available.
As ever, if you'd like to hear direct from our team of experts, just give us a bell on 01905 29950. Our friendly team will be more than happy to help find you the best powerchair for your needs. Alternatively, visit our mobility shop in Worcester where you can view our stock in person, or browse our online range.
Q700 Quickie Powerchair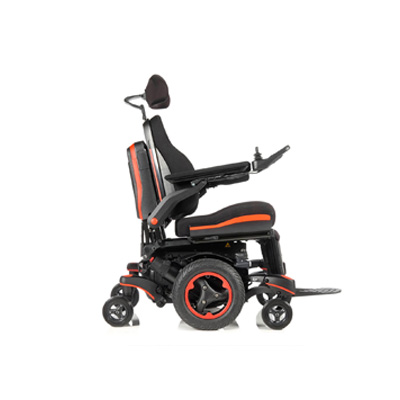 The Q700 Powerchair is Quickie's most advanced mid-wheel drive powered wheelchair. With superior style and manoeuvrability, the Q700 has the SpiderTrac™ 2.0 sports suspension for a super-smooth ride as well as a biomechanical seating system which mirrors the body's natural position for ultimate comfort.
Specifications:
Max Speed 4mph or 6mph
Length: 42.1"
Width: 24.4"
Range: 25 Miles
Max Weight Capacity: 25st
Total Weight: 160kg
Features:
SEDEO Pro Configurable Seating System
High Performance
SpiderTrac 2.0 Sports Suspension
Reliable & Intuitive Driving Experience
Mid Wheel Drive
Gyro Control for pin-point accurate driving
Variety of Powered Seat Options
Find out more about the Q700 Powerchair here or give us a call on 01905 29950.
Q300 Mini Powerchair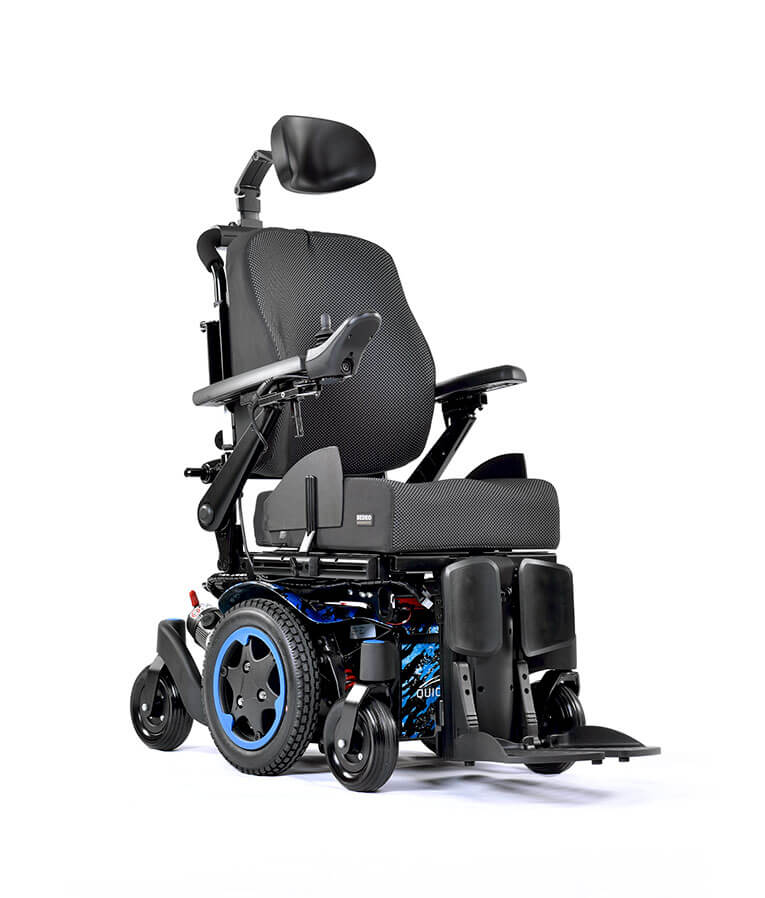 The Q300 Mini Powerchair provides the user with the ability to go where other powerchairs may be unable to. Thanks to its compact size and small turning circle, the Q300 is one of the best powerchairs for compact spaces and tight corners. It has a patented all-wheel suspension that will keep you safe and stable at all times and can even go off-road. Its super-strong 4 pole motors power through many different road surfaces, making the Q300 a very versatile product.
Specifications:
Max Speed: 4mph or 6mph
Length: 1060 mm
Width: 520 mm
Range: 22 miles
Max Weight Capacity: 21st
Total Weight: From 103 kg
Features:
Compact size for small spaces
Ultra-slim 520 mm base
Variety of swing-away leg rests, armrests and controllers
Optional flexi-back to the shape your spine
1120mm turning circle
Patented all-wheel suspension
Powerful 4 pole motors
Variety of powered seat options
Fully adjustable seating system
Find out more about the Q300 Mini Powerchair here or give us a call on 01905 29950.
Q50 R Powerchair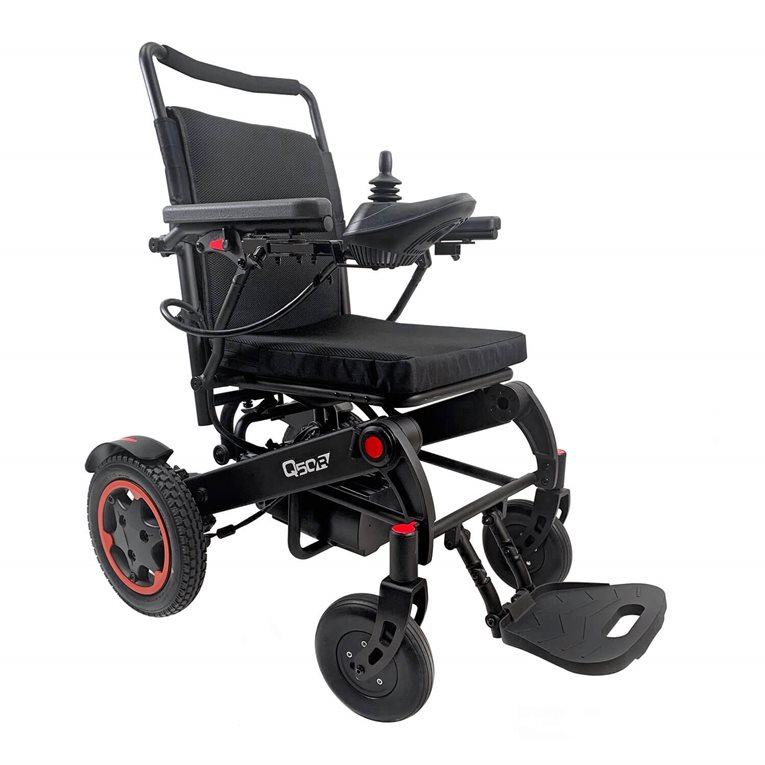 The Q50 R Foldable Powerchair is an excellent foldable powerchair for those who haven't used a powerchair before. With a padded seat, tension adjustable backrest, and a dual suspension system, this powerchair has enhanced comfort for the user. Plus, with a market-leading battery range of 31 miles, you can be on the move for longer, without a worry.
Specifications:
Max speed: 4mph
Length: 34" to 43"
Seat width: 17"
Range: 31 Miles
Max weight capacity: 21st
Total weight: 37.5kg with battery
Min weight: 32kg without battery
Features:
Dual suspension system

Easy fold system: Q50R folds in seconds

Simple, integrated, swing-away joystick control

Solid 8" and 12" wheels

200-watt brushless motors
Find out more about the Q50 R foldable powerchair here or give us a call on 01905 29950.
Action Esprit Powerchair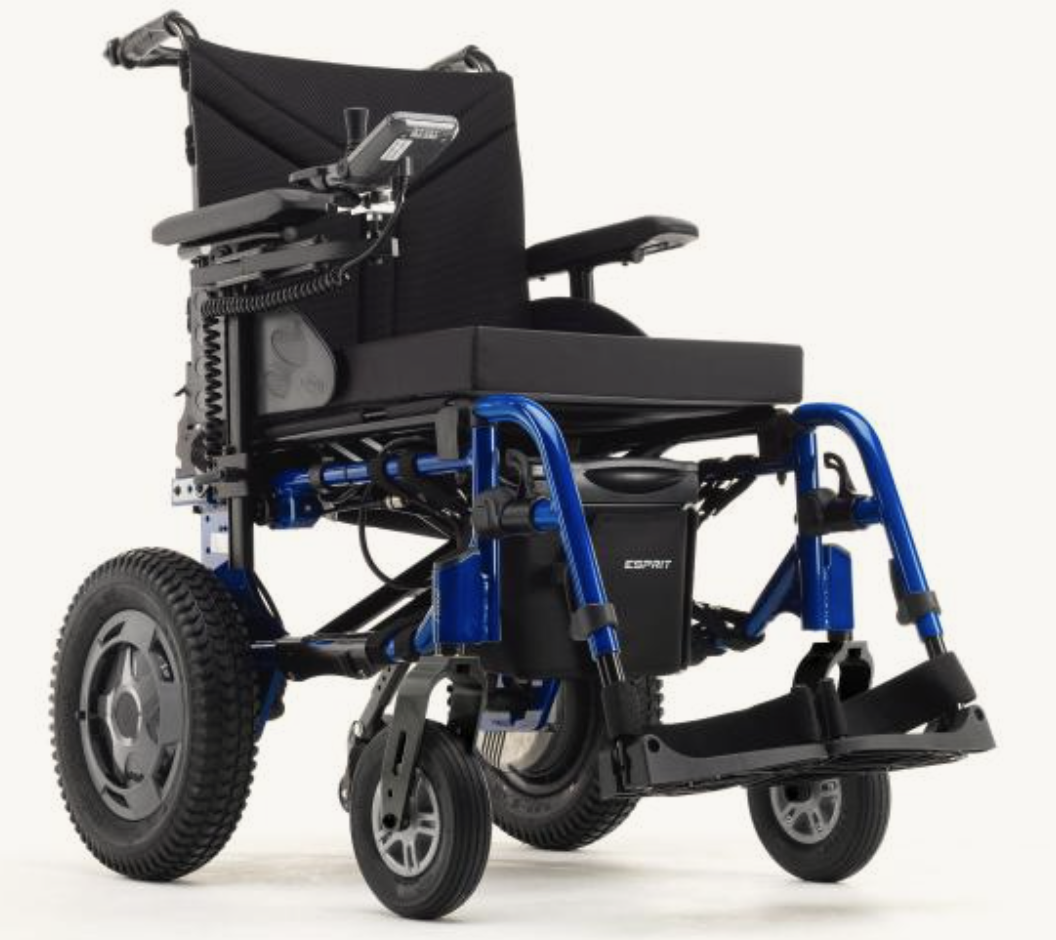 This lightweight, foldable powerchair offers a perfect combination of a technologically advanced powerchair design in a truly transportable concept; its finally time to enjoy the freedom and independence you deserve, without compromise.
Thanks to incredible innovation through in gyro technology, the compact wheelbase gives enhanced manoeuvrability, making the narrowest of environments easier to negotiate.
Specifications:
Max speed: 6km/h
Length: 980-1115mm
Seat width: 380-605mm
Range: up to 15km
Max user weight: 125kg
Total weight: 40.4-45kg
Features:
Lightweight
Foldable
Technologically advanced
Effortlessly handles inclines up to 6 degrees 14" rear wheels for improved drive performance
Easy to transport with its folding frame and simple to remove powered rear wheels and battery
Highly configurable powerchair with a range of seat sizes, postural backs, options, and accessories.
Available in either an Adult or Junior version
Find out more about the Action Esprit Powerchair here, or give us a call on 0190529950.
Q500 R Sedeo Pro Powerchair
The Q500 R Sedeo Pro Powerchair is a very versatile product encompassing rugged, responsive, and robust features. This Powerchair delivers an easy to handle and intuitive drive due to the drive wheel position.
Offering both indoor and outdoor usage the Q500 R Sedeo Pro Powerchair is one of the best powerchairs around to provide the user with the ability to go from the home to an outdoor adventure in the blink of an eye.
Specifications:
Max Speed: 6 & 8 kph (standard), 10 & 13 kph (optional)
Length: Max. 1180 mm
Width: 640 mm
Range: up to 40km
Max user weight: 160kg
Features:
Easy to handle and intuitive drive
Responsive
Compact chassis offering a tight turning circle
Highly adjustable and fully configurable SEDEO® PRO seating
The most advanced controls
Rear-wheel drive
Kerb climbing ability
High torque 4-pole motors powering speeds of 6, 8, 10 or 13 kph
Choice of 60 or 80 Ah batteries to maximise your range
Find out more about the Q500 R Sedeo Pro Powerchair here, or give us a call on 01905 29950.
Be sure to check out the whole range of Foldable Powerchairs on our website here or get in contact with us by calling 01905 29950 to find out more.